Us ...Established since 2005 Ooh La La! Vintage is first and foremost a compact and bijoux archive collection of the very best French retro, vintage fashion, accessories and lifestyle designs from the capital of chic itself. These vintage gems are carefully selected according to quality, super attention to detail and often reflect catwalk trends. Items date from the early 1900's to the 1980's. There is also a regular and changing stock of retro garments where the emphasis is on fashion, individuality and affordability.
Ooh La La! Vintage caters mainly for women who are looking for gorgeous one-off items; costume departments who are sourcing for film and TV; and stylists, designers and dressers looking to find inspirational designs. The company sources French retro and vintage clothes, shoes, and accessories in Paris. Clients include: Marni, Marc Jacobs, Vanessa Bruno, Chanel, Isabel Marant, Nina Ricci, Lacroix, Topshop, Warehouse, People Tree, Hoss Intropia, Karl Lagerfield, Sonia Rykiel, Ralph Lauren, Alison & Olivia, Marks and Spencer, And Other Things, ASOS, Chloe ....

Tara Munro at Ooh La La! Vintage on France 00 33 684 765 865 or info@oohlalavintage.com or taramunro@oohlalavintage.com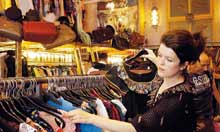 Ooh la la Vintage! Masterclasses in Paris and London
Allow vintage passionistas Ooh La La! Vintage to share with your the mystery, history and passion for fashion from days gone by...From the corsets and conical bras to stockings and shoulder pads..this lighthearted and anecdotal look at women's fashion through the past century will arouse your style senses with a little help from some fabulously fashionable phantoms. Discover the truth about Aunt Fanny's allure, marvel at Snooker Hall Celine's creative flair and appreciate the steadfast style principles behind Coco Chanel's enduring classics and the fascinating truth behind Dior's New Look collection. Granny's transparent flapper dress will never be the same again!
A fast-track fashion lesson in historical and anecdotal context: imagine you knew nothing about women in Europe in the past 100 years, what clues can we glean from their attire? Were they trussed up and shut up or footloose and fancy free? Who are the designers to look out for, which were most influential, what era is coming back and which era will always be in fashion? Find out!
The Private Boutique Experience
If you are coming to Paris for a little visit or actually live in this belle ville the come and enjoy a vintage shopping experience in the intimacy of Ooh La La's beautiful home boutique. Set in a stunning belle epoque location (circa 1896). Enjoy Ooh La La! Vintage's full collection in comfort with tea, cakes and weeping willow gardens..
Vintage Teatime with Customised Boutique
A glass of bubbly, homemade macaroons, the sweet sounds of Edith Piaf and a veritable treasure chest of beautiful things provide the prelude to the ultimate ladies weekend! One that can be interspersed with vintage cars, shopping tours, afternoon teas and cabaret glamour. Ooh La La! Vintage aim to take the pain out of vintage shopping and weekending- Paris style. Informed of your favourite vintage desires and dress sizes in advance, Ooh La La! Vintage will source secret addresses on behalf of guests and present a treasure chest of cherry picked clothes and accessories in the intimate location of the 1896 home boutique just 25 mins from Gare de Nord.
Madame Tra La La Vintage Encore....
Sister company Madame Tra La La also offers a beautifully made to order couture collection of vintage inspired creations in your choice of size, colour and fabric. Allow us to measure you up (appointments avaialable in London or Paris) during the vintage experience and your lovingly made item can be made and sent to your home in less than 3 weeks. Choose from a number of wittly named creations, each with their own personality including: Rainy Day Regine, Celine La Super Secretaire, Olympia La Belle Reine and Bibi Le Blush. www.madametralala.com. A new burlesque inspired collection is also now available: www.bowbellesvintage.com.
Itineraries, Shopping Tours and Retro Weekends
A few bottles of bubbly, a little Edith Piaf, a dozen super stylish friends and a veritable treasure chest of beautiful things..Ooh la la it's a vintage soiree. The perfect alternative to a girls night in, birthday surprise or sophisticated hen night.These can now be held in Paris with the possibility of taking a vintage masterclass with dressing up session, a charming citroen 2CV car tour to secret vintage addresses and a night out for some cabaret glamour at the Lido, Moulin Rouge or Crazy Horse. Vintage shopping tours in Paris and London can lso be organised. Call for a quote and tailor make your very own nostalgic weekend to remember! e:mail info@oohlalavintage.com. Allow Ooh La La! Vintage to take you back in time through the capital's best vintage addresses from old school haberdasheries and belle epoque shopping arcades to quirky vintage boutiques, bars, restuarants and chic private salons ..Be introduced to lesser known addresses and their charismatic sellers and allow the vintage passionista to seek out your vintage desires. The experience will also enable you to enjoy a few morsels of fashion history and insider tips on what you should be looking for before a stop at an elegant salon du the tea or cosy hideaway to indulge in something truly scrumptious and savour your newly acquired purchases.Ooh La La! Vintage will also help you navigate your way around the language, the price (if necessary) and present each vintage seeker with a carnet of addresses..From 50 euros per person for 3hrs
Testimonials
"Thanks so much for Saturday! You got the balance just right between learning about women's fashion through the ages and it being lots of fun with dressing up and glass of bubbles and sweet little cakes. You deserve to be very busy indeed and I will certainly recommend you to anyone I know." Georgina French - London
"I had a fabulous weekend! I loved our vintage masterclass and especially enjoyed trying on all the clothes. They were fab. I felt like a little girl again, playing at dressing up! Brilliant! " Kerry Phelan - London
"Your personality and your personal touch are what makes your business unique.It will be awesome when you get your shop. I will be SO back to visit"! Lorie Gatto - Los Angeles
"Thanks so much for a wonderful afternoon with you..and for letting us delve into the most amazing dress up box"!.. Gemma Gorringe - Reading
"I just wanted to say what an aboslutely fantastic time we had, we loved how personal you made it. It was great to be in your home boutique, trying on the clothes, taking pictures and not feeling rushed. Nothing was too much trouble. I'm so pleased with my new outfit too. People couldn't stop giving me compliments. Its nice to know I can tell the story of how I got in in Paris too!" Princess Leanna - Brighton
Personal Consultations
Looking for a killer cocktail dress or an Oscar-worthy gown? Send your measurements and style wish list 3 weeks in advance and we'll search high and low to find something drop dead gorgeous. Otherwise check out the gorgeous range from our Madame Tra La La made to order collection.
Price range
Everything is affordable. The idea is to renew stock in line with trends starting from as little as £5 for a natty little bakelite brooch from the sixties to £250 for a winter war-bride gown from the forties. Remaining prices sit somewhere in-between. A little piece of history for the cost of a night out.
Madame Tra La La - Vintage Encore
nostalgic design and inspiration - contemporary fabric & fit
Want to own a little piece of history but can't find anything to fit? Ask about our new virtual seamstress Madame Tra La La and her exquisite vintage collection. Each beautfully made garment will remain faithful to the original design and fabric whilst the colour, trim and size will be your choice. Each will also come with its own quirky story about the glamourous Parisian madame who first inspired the design. Voila! a unique one off classic that there will be no chance of running into at the next glam soiree!
Online at:
www.madametralala.com
Bow Belles Vintage - wearable French inspired glamour
Madame Tra La La recognises and loves that our luscious lady shapes have grown bigger and straighter over the years and those weeny wasp waists are now a thing of the past..Our new Bow Belle Collection will offer a vintage inspired option with a unique French twist. Dresses and Playsuits that can be thrown in the wash without a worry for shrinkage or colour run! Choose your colour choice, mark your size and voila your inner chic will be unleashed at the drop of a chapeau.
Online at: http://www.bowbellesvintage.com/